Not all videos you can transfer to your iPad? Wanna play DVD movies on your iPad? Use Handbrake to help you. It is a free source Mac Video converter for you to convert DVD, convert video in 3GP, AVI, FLV etc. This tutorial focuses on how to use Handbrake to convert video on Mac so you can watch unaccepted video on your iPad or other devices.
Note: 1. Here is the tutorial on  how to use handbrake to convert DVD on Mac. 2. Handbrake can only convert video in several formats and provides only two output format: MKV and MP4, and several presets for iPod, PSP or more (all the output formats are preset as MP4.)  And for using the output video on your iPad, iPhone or more, be careful in setting the video resolution, video format and more. Or you can use another Handbrake alternative: iMedia Converter for Mac which provides optimized presets for iPad, iPhone, Xbox 360 and other hot devices so you needn't to set video resolution, bit rate etc. by yourself.
Requirements:
Part 1:Use Handbrake to Convert Videos on Mac OS X
Part 2:Best handbrake alternative to convert any video and DVD on Mac
Part 1: Use Handbrake to Convert Videos on Mac OS X
500 MHz processor or better with at least 16MB of video RAM
(Handbrake 0.9.3 and higher) Handbrake 0.9.3 (Only the latest version of handbrake 0.9.3 can convert videos using the Theora codec. It can convert videos such as 3GP, AVI, FLV, MKV, MOD, MOV, MP4, MPG, WMV to MP4, MKV, AVI, OGM on Mac. But sometimes, Some such videos can not be loaded successfully.)
Mac OS X 10.5 or higher
1. Download and load videos you want to convert.
Download Handbrake: Handbrake 0.9.5 for Mac OS X.
Handbrake is free. If you already have Handbrake installed, please check to see if your version is out of date.
Once downloaded, depending on your computer's operating system, you'll be asked to install the program. Follow the directions on your screen and you'll be fine.
Now, you can load videos such as 3GP, AVI, FLV, MKV, MOD, MOV, MP4, MPG, WMV you want to convert.
If a dialog box doesn't open up, click on the icon that says Source and select the videos in you mac which you want to convert.
Note: Not all videos can be imported to convert, and you can only convert video one by one with Handbrake, so if you can not load your videos successfully or wanna have batch conversions to save time, you can use iMedia Converter for Mac.
2. Change the Destination Settings.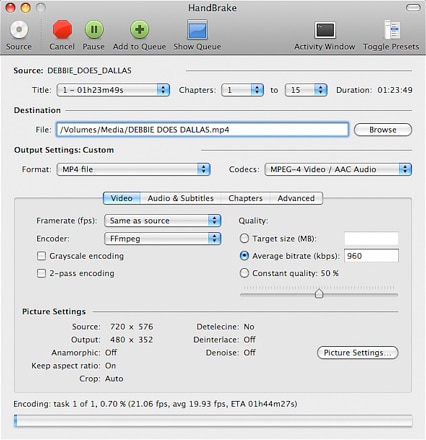 The way your picture and sound quality will turn out in the resulting file depends on the settings you choose in this step. You could always go with the default settings, but if you'd like more control over the output, here's how to do it.
The Destination section has 3 settings you can modify: file format, codec and file destination.
And you need to decide is what format (MP4, MKV) you'd like the output file to be in. There are some presets that can be found on the Presets Toggle bar, and you can select any one of those, such as those for iPod, iPhone, Apple TV, Xbox, Sony PSP and many more.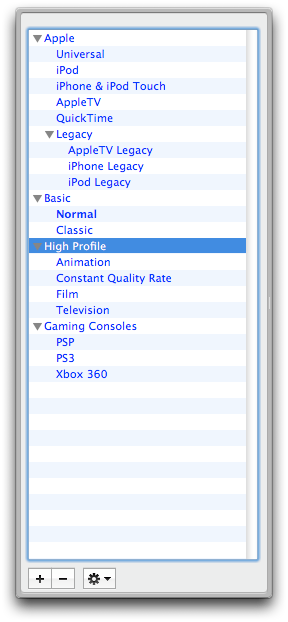 Next, you want to choose the destination location. You can name your file and choose its destination using this box. Try to pick a location that has sufficient disk space to store the converted file.
3. Picture Settings.
Click on the Picture Settings button to launch a separate window. The only thing you really want to do here is to compensate for interlaced or grainy, compressed looking video. Handbrake will have adjusted everything here for you based on the preset you selected.
Sometimes video files will have horizontal lines in them. This is called interlacing. To get rid of interlacing, try turning on the Deinterlace option and select "Fast." The image below is animated and will toggle between when the deinterlace option is turned on or off. You can really see the difference around the edge of the flipper.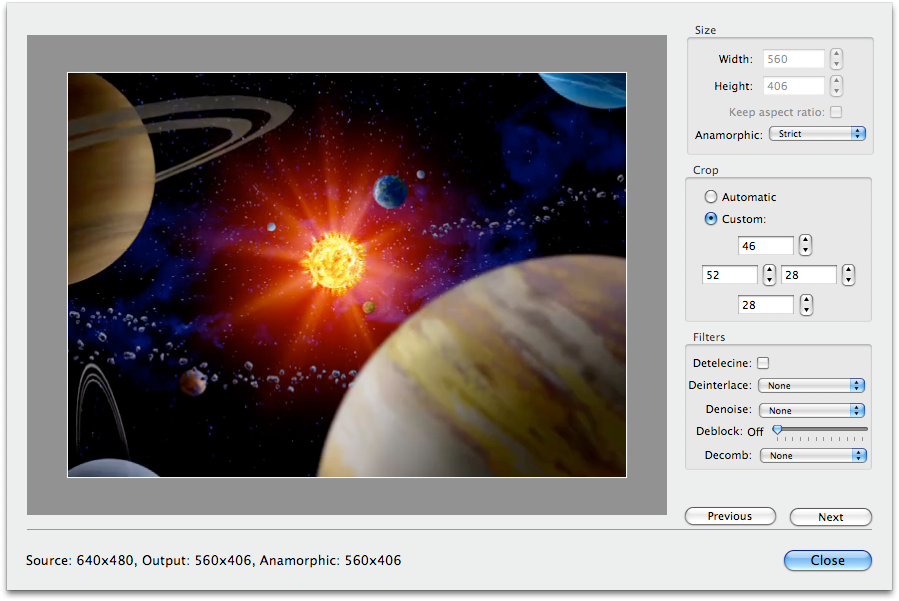 Remember: the larger the screen size, the larger the file size will be, and hence the more time it will take for Handbrake to convert your files.
4. use handbrake to convert videos on Mac.
Finally! Click on the Start button and stand back. The encoding time will depend on several variables including: the duration of the video file, the speed of your Mac, what other activity your Mac is currently doing, the codec you selected (H264 or MP4) and if you decided to do a 2-pass encoding or not.
Handbrake will attempt to provide you with an ETA. The time will increase if you Pause the encode or do anything that will hog the processor like start a 3D render in Maya. We suggest you do your video conversion overnight or at a time when you don't need to use your computer.
When encoding is finished, quit Handbrake.
5. Import Into iTunes.
Connect your iPod Video or iPhone to your computer using the cable it came with and open iTunes (Applications > iTunes).
Drag and drop the video file into your iTunes library, or select Add to Library… from the File menu.
Make sure the video file you just added to iTunes is in a Playlist that will get synced to your device.
Select "Sync"
The sync may take a few minutes. Once completed, the file should now be on your iPod or iPhone.
Part 2: Best handbrake alternative to convert any video and DVD on Mac.
Handbrake alternative: iMedia Converter Deluxe for Mac
Broad format support:  able to convert DVD an any video in all popular formats including AVI, MP4, WMV, MOV, FLV, MKV, AVCHD and more
Provide presets for iPad, iPhone, iPod, PSP, Xbox 360, Motorola, HTC and more
Automatically add converted file to iTunes if you choose preset for Apple devices or apps so you can directly orgnize the file via iTunes or transfer to iOS devices.
Easy to use in video and DVD conversion: drag file to the Mac app -> choose the output format -> click Convert button. That's all.